There's a lot going on in Altar Valley. Our District News page will give you a taste of why we are so proud of our students, our teachers, and our community.
Altar Valley All-Star Partner: Patzi Hughes at Serenity Baptist Church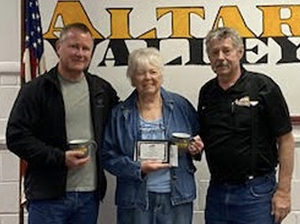 The Altar Valley School District would like to celebrate Patzi Hughes and the Serenity Baptist Church for all that they do to support the Altar Valley School District and the community.
Patzi is the driving force behind so many wonderful events that happen in Three points. She is the glue in coordinating our Three Points Thanksgiving Dinner each year and a leader in the planning of the Three Points / Robles Junction Community festival. During the community festival, you will see her taking reservations for the upcoming Community Thanksgiving.
Patzi has been a wonderful resource in our community and is a great supporter of families in need. Not only does she coordinate food box distributions at the church, but she has arranged for boxes to be picked up and delivered for families who were unable to make it there themselves. Also, she has helped in finding resources for housing, utility assistance, and other county programs. She has been instrumental in connecting us to people who run our community food bank and My Friends Closet thrift store, which has allowed us to refer families needing clothing or extra food. Patzi has organized church volunteers to help with home repairs as well. She has a wealth of knowledge that she has openly shared with us over the years, which has helped so many of our families. We are truly grateful to have such a caring person to collaborate with.
Thank you, Patzi and Serenity Baptist, for not only your support to Altar Valley School District but to the entire community.
Patzi Hughes, you are an Altar Valley All-Star!
ParentVUE
The Altar Valley School District utilizes Synergy for the management of student information. ParentVUE is a web and mobile portal feature of this program that allows parents to access to their child's school information.
In the ParentVUE web and mobile portals, parents can gather near real‐time information for all the siblings, regardless of the grade level or school of attendance during a single sign-on. Communication tools are easy to access to help promote contact between the parent and teacher that is necessary for student success. Some of the additional features in ParentVUE include allowing parents to view the school district calendar, attendance, grades and daily assignments, class schedules, and report cards.
Contact your child's school for access or if you have any questions on how to get started.