Superintendent Message
May 2023
Dear Altar Valley Families,
Thank you to all of the Altar Valley Families for a great school year! I would also like to thank all of the families that completed the family school surveys. We plan to take your feedback and keep working to get better as we continue our planning for the 2023–2024 school year.
We have a lot of wonderful things planned for the last month of May so please be sure to check with your child's teacher.
Below are a few highlights, celebrations, and upcoming events:
Happy Retirement - Thank you to Ms. Georgina Woodley for her dedication to the Altar Valley School District. We wish you all the best!
Promotion Ceremonies:
Kindergarten Promotion: May 17, 2:15 p.m. Robles cafeteria
5th Grade Promotion: May 17, 5:30 p.m. Robles cafeteria
Preschool Promotion: May 18, 9:30 a.m. Robles cafeteria
8th Grade Promotion: May 23, 6:00 p.m. AVMS field
Recognition of Excellence:
Eagles of Excellence: May 22, 1:00 p.m. AVMS Gym
Bobcats of Excellence: May 24, 2:00 p.m. Robles Café
Discovery STEM Camp - June 5 through June 29, Monday–Thursday, 8:00 a.m. to 1:00 p.m. Transportation, breakfast, and lunch provided.
AVSD Summer Basketball Camp - More information coming!
Registration: Returning, New, and Open Enrollment families go to the link below to register. We need all returning families to update their information for the upcoming 2023–2024 school year.
https://www.altarvalleyschools.org/Registration
Join the AVSD Team - Altar Valley has certified and classified openings for the 2023–2024 school year:
Certified Counselor
Paxton Patterson Teacher
Bus Driver
Substitute teacher
Paraprofessionals starting at $15.00 an hour
Before and after school tutoring, enrichment, clubs, and sports sponsor needed for the 23–24 school year
If you or someone you know is interested in joining the AVSD team, please visit our website at: www.altarvalleyschools.org for a list of open positions.
Wishing you all a fun and safe summer. See you all August 3 for the first day of the 2023–2024 school year! And don't forget our Meet the Teacher night on August 2!
Sincerely,
Dr. Dave Dumon
Superintendent
Altar Valley School District
ddumon@avsd.org
(520) 822-1484
DR. DAVID DUMON COMPLETES AASA NATIONAL SUPERINTENDENT CERTIFICATE PROGRAM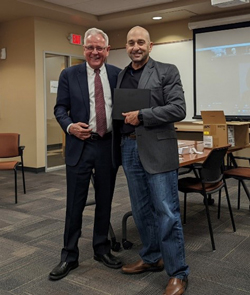 The American Association of School Administrators (AASA) selected 30 superintendents from across Arizona to participate in the National Board Certification Program, a 20-month professional experience designed to bolster the effectiveness of superintendents across the nation. The program followed a cohort model and supported leaders with the knowledge, skills, and practices to advance, guide and support superintendents to be future-ready as they enhance learning opportunities for students. The AASA National Superintendent Certification Program provided a real-time focus on key issues that superintendents are facing today. Congratulations, Dr. Dumon!
CONGRATULATIONS, DR. DUMON!
Congratulations to Dr. David Dumon for being selected to receive ASA's All Arizona Superintendent Award for the Small Size School Districts.
Dr. Dumon is superintendent of the Altar Valley School District in Tucson, Arizona. Dr. Dumon and the Governing Board have developed a strong rapport that centers on common goals around students achievement and an understanding that the schools are social and cultural anchors in the small community of Three Points. Within the first year, he and his board created a strategic plan that focused on students achieving both personal and academic excellence. The strategic plan has guided the district toward their goals and is revisited frequently with stakeholders.
Dr. Dumon identified, adopted, and implemented a comprehensive core reading program during the beginning of his tenure. He led the restructuring of the K–8 literacy instruction to include rigorous Tier I instruction and targeted Tier II and Tier III interventions.
He is involved with professional development, instructional coaching, and implementation of DIBELS benchmark screening for teachers and administrators. He believes data should be used to guide teaching, learning, and professional development.
The district is a key partner in the annual Three Points Community Festival where Dr. Dumon serves on the planning committee. At this annual event, the Three Points community, a rural, unincorporated area 25 miles west of Tucson come together. Board members, staff, and community partners come together each Thanksgiving to cook, serve, and enjoy Thanksgiving dinner for families in need. During the pandemic Altar Valley School District partnered with Pima County and provided fresh food boxes to more than 30 families each month.
He is guided by the word of Lewis Carroll, "If you don't know where you are going, any road will get you there." Dr. Dumon cares deeply about teaching and learning. He appreciates school isn't easy for everyone (him included) and that each child has a right to quality instruction. He visits classrooms, playgrounds, and attends extra-curricular events and enjoys taking on the role of motivator-in-chief. You may see him as Professor "Dumon"-dore from Harry Potter, reminding Altar Valley School District students that they have the magic within them to succeed, the Last Jedi inspiring students to find the force within themselves to achieve, or putting the "Super" in Superintendent as Altar Valley Man.
Altar Valley School District is a social and cultural anchor in the Three Points community. It serves nearly 600 students, encompassing nearly 700 square miles of high Sonoran Desert and mountains situated between metro Tucson and the Tohono O'odham Nation.